Your ads will be inserted here by
Easy Plugin for AdSense.
Please go to the plugin admin page to
Paste your ad code OR
Suppress this ad slot.
Vettel was handed a five-second penalty after he was deemed to have rejoined the circuit in an unsafe manner after making a mistake during lap 48, pushing rival Lewis Hamilton off the track in the process. Despite holding off the Mercedes driver for the rest of the race and crossing the finish line in front, the time penalty ensured the 31-year-old Vettel finished second.FIA officials met with the team ahead of the French Grand Prix this weekend but ultimately rejected Ferrari's right to review the decision.Despite Ferrari being optimistic that they had "overwhelming" evidence, stewards concluded that there were "no significant and relevant new elements which were unavailable to the parties at the time."With its right to appeal rejected, Ferrari is still looking for its first win of the Formula 1 season.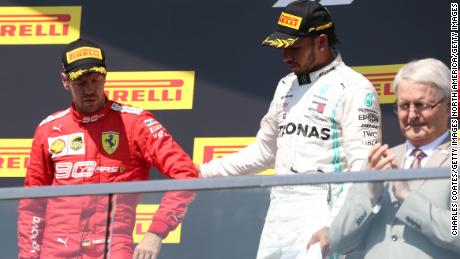 READ: Lewis Hamilton and Arnold Schwarzenegger among stars at Lauda funeral
READ: Leonardo DiCaprio and Orlando Bloom attend Formula E film premiere
Vettel strop
Following the race, the German driver staged a mini protest, initially refusing to take to the podium and swapping the number one and two boards that had been placed in front of the Mercedes and Ferrari cars."I think we had a great race and the stewards' decision is too harsh," said Vettel, after the race.Vettel's reaction after the race was ridiculed by some on social media, with many likening his antics to a childish strop. "EXACTLY what my daughter Flo would do if she didn't get her own way. She's 6," said former F1 presenter Read More – Source